---
Pitch
CSA a way to achieve short-and-long-term agricultural development priorities in the face of climate change.
---
Description
Summary
Climate-smart agriculture (CSA) is an alternative approach to managing land sustainably and increasing agricultural productivity under the new realities of a changing climate.Climate-smart agriculture idea, first championed in 2010 at the first Global Conference on Agriculture, Food Security and Climate Change at The Hague, is composed of three main pillars: sustainably increasing agricultural productivity and incomes; adapting and building resilience to climate change; and, reducing and/or removing greenhouse gas emissions.
The idea of facilitating the supply of chemical fertilizer and genetically improved seeds to farmers and enhancing their access to output markets is giving way to an approach that is centered on developing smallholders' ability to help themselves.Climate-smart agriculture strengthens food security and delivers environmental benefits. Climate-smart agriculture includes proven practical techniques — such as mulching, intercropping, conservation agriculture, crop rotation, integrated crop-livestock management, agroforestry, improved grazing, and improved water management — and innovative practices such as better weather forecasting, more resilient food crops and risk insurance.
Through climate-smart agricultural landscapes, important synergies for agricultural production, climate adaptation and mitigation, as well as other livelihood and environmental objectives, can be generated through coordinated action at farm and landscape scales.in action is the use of so-called 'Integrated Soil Fertility Management. climate-smart practices include agroforestry, an integrated land-use system combining trees and shrubs with crops and livestock; and, conservation agriculture, a system based on minimum soil disturbance through mechanical tillage, permanent soil cover through residue management, and crop rotation and diversification using legumes and green manure or cover crops.
---
What actions do you propose?
The actions are:
First, 1 month climate-smart agriculture awareness program in local level, regional level and national level.
Then, farmers offered an opportunity to join climate-smart agriculture group.
Formation of the climate-smart agriculture farmers groups, at least 25-30 person/group.
Trained these groups 7 days about the knowledge of climate smart agriculture.
To begin with trained these groups about the knowledge of agroforestry technology, land management system, crop, livestock farming and tree planting system.
Then, farmers offered for tree-planting programme in own land.
Farmers to receive various levels of input subsidies and/or outcome-based incentives for tree survival, which rewarded farmers for keeping 70 percent of their trees alive for one season. Farmers receive inceptive after one year tree survival, per tree US$4.00/year. Afterwards up to 5 years incentive increases per tree US$1.00/year-
Take-up, tree planting and tree survival outcomes were used to measure adoption.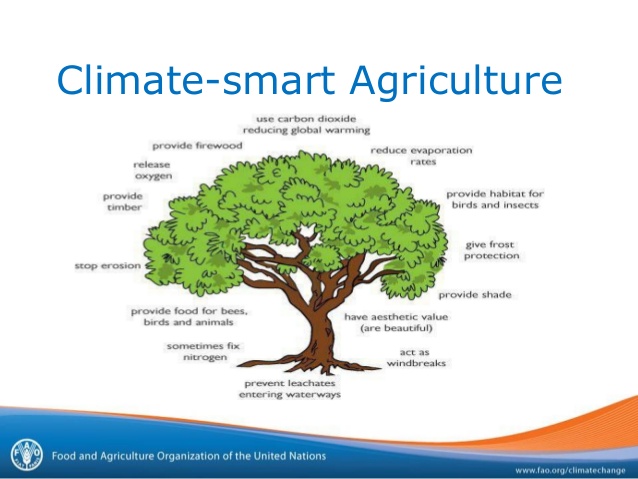 Promote climate-smart agricultural policies:
Establish stronger linkages between farmers, climate-smart supply chains, and markets.
Prepare nationally owned climate-smart agricultural policies and action frameworks tend to increase the adoption of CSA technologies.
Increase investment in agriculture:
Agroforestry is an integrated land-use system combining trees and shrubs with crops and livestock.
Ensure equitable access to land:
Secure land rights are necessary for climate-smart agriculture, providing incentives for local communities to manage land more sustainably.
Facilitate increased input use:
Targeted use of fertilizers and other inputs.
Improve knowledge management systems:
Climate-smart technologies are knowledge-intensive, and promoting their adoption will require well designed, inclusive, and innovative knowledge management systems.
Boosting prosperity and encouraging sustainable farming practices.
---
Who will take these actions?
The key actors are:
Government, Local NGO and INGOs and concerned stackholders
---
Where will these actions be taken?
Worldwide
---
How much will emissions be reduced or sequestered vs. business as usual levels?
A tree can absorb as much as 21.77kg carbon dioxide per year. However,emission will be reduced depending upon the number of tree survival.
---
What are other key benefits?
The key benefits are:
Management of farms, crops, livestock, aquaculture and capture fisheries to manage resources better, produce more with less while increasing resilience
Ecosystem and landscape management to conserve ecosystem services that are key to increase at the same time resource efficiency and resilience
Services for farmers and land managers to enable them to implement the necessary changes
---
What are the proposal's costs?
Proposal cost calculated in context of Nepal
1 month climate-smart agriculture awareness program in local level, regional level and national level - US$20000.00/-
Formation of the climate-smart agriculture farmers each group- US$100.00/-
Each group(25-30 person) 7days training cost = US$6300.00/-(7day $30/person)
Calculation based on tree plantation 100 tree plant (needs of local people and adopt local climate) purchase = US$100.00/-
Farmers receive inceptive after one year tree survival, per tree $3.00/year. Afterwards upto 5 years incentive increases per tree US$1.00/year. Total cost = US$2500.00/-
Administration cost = US$5000.00/-
Currency exchange rate 4/18/2016 (1US$=106.57 Nepalese rupees)
Total Cost = US$34000.00/-
---
Time line
Within 1 year baseline survey of climate smart technology
1-2 years farmers group formation,training and plantation
2-7 years implementation and monitoring of the program
Above 7 years cost benefit analysis.
---
Related proposals
---
References
Africa Soil Health Consortium. Handbook for Integrated Soil Fertility Management [online] (2012) http://africasoilhealth.cabi.org/wpcms/wp-content/uploads/2014/05/ISFM_h...
CSA_Brochure_web_WB.pdf
http://www.thesolutionsjournal.com/node/237404
https://ccafs.cgiar.org/climate-smart-agriculture-0#.VuU6Pkf6LIU
https://www.americanforests.org/discover-forests/tree-facts
Lipper, L et al. Climate-smart agriculture for food security.Nature Climate Change 4, 1068-1072 (2014).