---
Pitch
Verb Camp will equip young professionals with a nuanced understanding of environmental issues so that they are able to better communicate.
---
Description
Summary
The Verb is a newswire telling the stories that matter. We've focused on the UN climate change negotiations process for close to three years. We have a team of over 40 contributors across 20 countries. We know the value we bring isn't just in the content that we provide and syndicate - it's the professional development we provide. We want to build the pool of people around the world who are able to effectively communicate about environmental issues in the lead up to a momentous international policy moment, the UN climate change negotiations in Paris 2015 and beyond. There's no-one else that fills this space in the environmental, media or multilateral space.
Verb Camp is an immersive multi-day retreat filled with edification about environmental issues within a media and multilateral space. Our participants have close contact with professionals from IPCC scientists to environmental media editors and NGO professionals. Each session is tailored to the individual skills within the group with sessions on writing, social media and policy; building the capacity of participants within the field of journalism. This will also help grow The Verb's pool of available freelance contributors from around the world. Having piloted in Australia already, our strategic objective is to conduct at least one Verb Camp on every continent by December 2015.
Verb Camps across the world will empower hundreds with the ability to communicate about the environment. We've worked with everyone from university students to engineers, architects and photographers. Their ability to contribute to The Verb's coverage of environmental issues is invaluable, and participants have been subsequently earned bylines in Reuters, The Huffington Post and Al Jazeera. The real benefit rests in their ability to bring their newly developed skills back into their sector.
The environment shouldn't be a niche issue, we're building the capacity of individuals.
---
Category of action
Youth Leadership on Climate Change
---
What actions do you propose?
Climate change is an abstract issue, UN climate change negotiations have the added disadvantage of also being technical. Few understand either, yet there needs to be an international agreement if we're going to address climate change. The Verb aims wants to train young professionals in effective environmental communication practices alongside our coverage of the UN. We want to expand on the work we're already doing, and train more young people from across the world who may never otherwise have this opportunity.
A Verb Camp on every continent
We aim to conduct at least one Verb Camp on every continent before December 2015. Each of our Verb Camps will be tailored to the location, the background of our participants and relevant events in our 2015 timeframe. Our proposed locations are:
Melbourne, Australia (Apr 2013 and July 2014)
Duration: 3 days
Participants: 11
Focus: see example schedule below
New Delhi, India (Nov 2014)
Duration: 3 days
Participants: 150
Focus: environmental justice concerns with a focus on food and agriculture alongside energy access
Lima, Peru (Nov 2014)
Duration: 2 days
Participants: 250
Focus: policy sessions leading into the COP
Toronto, Canada (Jan 2015)
Duration: 3 days
Participants: 40
Focus: domestic politics and ethnic media
Brussels, Belgium (Jun 2015)
Duration: 3 days
Participants: 50
Focus: geopolitics of environmental issues, renewable energy and leading into the negotiations
Melbourne, Australia (Jul 2015)
Duration: 3 days
Participants: 65
Focus: carbon pricing and science communication
Manila, Philippines (Aug 2015)
Duration: 3 days
Participants: 60
Focus: environmental responses to natural disasters
Boston, USA (Sep 2015)
Duration: 3 days
Participants: 60
Focus: green technology, new media and academic research
Doha, Qatar (Oct 2015)
Duration: 3 days
Participants: 60
Focus: adapting to climate change and energy transitions
Nairobi, Kenya (Oct 2015)
Duration: 3 days
Participants: 60
Focus: gender, agriculture and energy access
Paris, France (Nov 2015)
Duration: 3 days
Participants: 250
Focus: Local action and global policy implications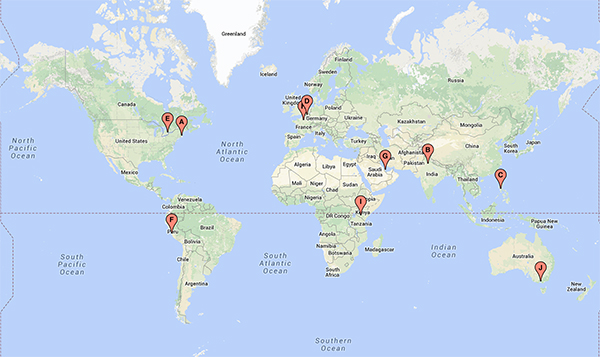 Policy Upskilling
Policy driven sessions are a key component of the training we will offer during Verb Camp. Our sessions in Lima, for example, will equip participants with the knowledge of UNFCCC processes that will be undertaken at the COP meeting the following December. This will allow for more informed and effective participation for advocacy purposes and also result in better journalistic coverage.
Communication Upskilling
The ability to convey clear, powerful messages is key to anyone, even if they're not working in the media sphere. This is all the more important in communicating about climate change, a scientific phenomena with tangible impacts for people. Verb Camp will equip young professionals with the ability to effectively communicate environmental issues. They will also have the ability to extend their learnings into their own professions and communities. We'll be training hundreds of people but the impact will be felt by thousands, and potentially millions through subsequent content produced for The Verb. Our communication sessions cover editorial advice on writing clearly and effectively, photography, film and other visual media. The Verb uses an editorial process in the production of all our content. The contribution of our expert editors in various fields as well as external journalists who have previously contributed to Verb Camp will provide an immersive journalistic education.
Social Media Upskilling
The ability to disseminate policy and writing to a wider audience through the strategic use of social media is equally as important as the production of content itself. We will focus on best-practices.
Here is an example of a previous Verb Camp Schedule:
VERB CAMP 2013
Melbourne, Australia
If you want the down low with what will be happening during Verb Camp, look no further than below. Even though we aren't overseas running around in a big building, the schedule is so tight and jam packed it'll still feel exactly the same. Remember to be on time otherwise you may miss out, and that would be sad.
The weekend that we will be spending together includes a mix of getting to know you, learning new skills, talking to industry experts about how they do it and planning as well. It will be intense. The schedule is a little disjointed and there isn't a lot of rhythm to it, hopefully you will get a lot out of all of the discussions though.
Conversations with will be a presentation from an expert in that field before an equal opportunity to start a discussion, so come ready with questions. Workshops are workshops and will most likely be more skills based, but depends on the presenter. IYHAMD stands for "If You Had A Million Dollars" which is what we're calling "strategic planning" or "next steps".
A word on planning: it will be a drawn out process that will by no means finish by Sunday.
Friday 19 April
1300 - Tick Tock
Welcome one, welcome all to Verb Camp. Woo!
1345 - Conversations on editorialising climate change
Sara Phillips, online environment editor of ABC news, will be sharing her thoughts on writing about climate change specifically for an online audience. Who does she read? How does she commission articles?
She will be chatting with Tim.
1415 - Interviewing with interest
Sarah Hunt, of Go To Sarah and Hidden Documentary, will be showing us how to get the most our of interviews for you and your subject. Sarah will also be providing tips on communicating about "heavy" subject matters in an accessible way.
1515 - Afternoon tea
The only break that you will get on what was meant to be a light day.
1545 - Grammar Fun
Lara will talk a little bit about grammar during this time, it's all pretty casual. Tim and Linh will also talk a bit about style and being edited too if there's a chance.
1630 - Renewables in Australia
Michael will talk about updates on renewables - from the technology to the policy.
1700 - Conversations on science communication
Respected Australian climate scientist David Karoly joins us to share his thoughts on effective science communication. He will also be highlighting opportunities with the upcoming release of updated IPCC reports.
He will be chatting with Michael.
1730 - Open Space
Using the adapted principles of open space we will get an opportunity to talk about anything relating to The Verb, or not.
1900 - Dinner
We'll be leaving to have dinner at Lentils as Anything, where you can pay what you want (although, they suggest $15 for what they'll be providing us with) in Abbotsford.
Saturday 20 April
0930 - Tick Tock
Another welcome to our late-comers and talking through the day, introducing some Verb faces and maybe getting a start on planning.
1000 - Photojournalism
Photojournalists Julie Bowyer and Kim Cartmell will be speaking, with Laura, in a panel style format, so come with all of your questions. Julie has covered the Olympics and is currently a photojournalism lecturer at Monash University. Kim used to be a photojournalist at a local rural paper.
1100 - Group Photo
You may as well smile for when one of the actual legit photojournalists takes our group photo for us.
1115 - Morning tea
Go eat and form an orderly line for the one toilet we have access to if you need it. The next batch of Verb people will also be telling us about themselves.
1130 - IYHAMD
Where is The Verb going? This will give us all an opportunity to share why we are involved and try to reach consensus as to where we are going, and why.
1230 - Conversations editorialising climate change
Tom Arup, The Age's environment editor, will be building on Sara's thoughts focusing on mainstream print media. How do you cover climate change when it is such a politically charged issue? How do international negotiations factor into other existing environmental coverage that is already competing with everyday news?
He will be chatting with Tim.
1300 - Lunch
Food food food, likely to be sushi and rice paper rolls. Failing that, sandwiches. And a little bit more time to find out about some Verb people.
1400 - IYHAMD
We will start by talking as a group about what do we need to talk about and what we need to cover. We will then be breaking off into smaller groups to discuss different aspects of The Verb, from the immediate things like website and COP18 to the bigger picture thinking of how do we structure ourselves, our content and why.
1600 - #lolchina
Mr First Dog On The Moon will be coming to talk about how to be funny and political at the same time. He'll also tell us where he draws the line with things that are funny, and things that just plain offensive.
1630 - Afternoon tea
In the ultimate battle of food bowl vs. food platter, pick wisely or just continue to eat dips and lollies. Also, more Verb face introductions.
1700 - IYHAMD
Similar to the last session, feel free to move around or add another area to the mix of what you think should be discussed.
1830 - "Free time"
Take a breather before dinner and epic competitive times. Or continue to work on IYHAMD in smaller groups or by yourself.
1900 - Dinner
Tonight we're staying in with some catering from Moroccan Soup Kitchen.
2000 - Who is The Verb's biggest nerd?
This eternal, and fortunately internal, debate is yet to reach a consensus but, with Jeremiah hosting games night - we'll at least know which pairing make the ultimate games night player.
Sunday 21 April
0830 - Tick Tock
Last day calls for an early start, just a quick check in. Nothing too serious.
0900 - Having your way with words
Sofija Stefanovic will be running "Having Your Way with Words", the sold out School of Life workshop, exclusively for Verb Camp. This will include eating leftover food, otherwise known as morning tea.
1330 - Lunch and conversations about the UNFCCC
More leftovers, but there might also be rolls that you can DIY. Before you go to town on the food though, there will be a couple of minutes to remind you all what is happening this afternoon.
Anna Malos from CANA (Climate Action Network Australia) will come in and chat with us about updates with the UNFCCC, opportunities that she sees in terms of communications and generally about climate policy.
All during lunch, yep.
1430 - IYHAMD
The last session, where we will talk collectively about immediate next steps. Different people or groups will present back to everyone about what they got up to in their smaller discussions.
1530 - Wrapping up
Whip around the room to do something we rarely do - debrief in person. Bringing it all home by sharing what we got out of a crazy Melbourne weekend together.
1600 - Finito
It's time to go home (and maybe lend a hand packing up first). It's all over. Unless you want to hang out more, then see below for optional activities.
(Optional) 1700 - First Dog on the Moon and dinner
For those Verb kids still lurking around, we'll be heading to First Dog on the Moon's comedy show and dinner stuff.
A new pool of empowered contributors globally
Verb Camps will induct a new wave of skilled contributors who will exponentially expand The Verb's capacity, diversity and reach. Our camps will see young people from early university to young professionals moving from awareness to action in the various fields they work in.
Potential for further contribution to The Verb and the wider environmental policy cause
Participants will be invited to apply to become part of the small in-country teams that we send to international meetings such as COPs. These intensive two week meetings allow further opportunity for participants of Verb Camp to develop their own professional policy, communication and networking skills independently as well as contribute to The Verb as part of a content-driven team. All participants will also be able to produce ongoing content for The Verb.
---
Who will take these actions?
The Verb will spearhead the delivery of this project. We will also act as a convenor of the different parties who will assist in the delivery of Verb Camps across a number of disciplines. This will include stakeholders from multilateral institutions, government, business, civil society, media and academia. Exactly who these actors will be is dependent on the location, timing and focus of the Verb Camp itself. We will be responsible for the recruitment, development and implementation of a training program and provide an avenue, The Verb itself, where these newly learnt skills can be utilised.
The current team behind The Verb bring a multitude of disciplinary perspectives ranging from academic training in political science to architecture and engineering right through to anthropology and biomedical sciences. We span across the world geographically with backgrounds in rural and urban contexts.
Collectively, we have experience in turning ideas into impactful initiatives. We've done everything from changing federal legislation, rolling out multinational programs, undergoing PhD level education, working in government, building websites, performing in sold out comedy shows, addressing audiences in the tens of thousands, running educational programs, designing buildings, raising capital for startups, photographing parties and weddings -- the list of our collective experiences just go on.
We, The Verb, are the team to be delivering this project.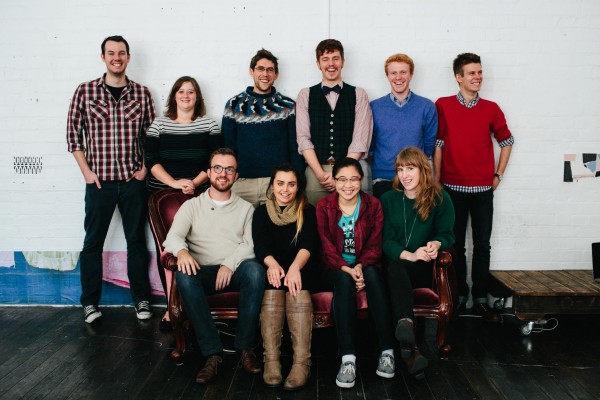 ---
What are other key benefits?
Politically and environmentally savvy content
Our readership, at its peak, has reached 15,000 people daily from over 100 countries. This doesn't include our syndication partners who have a combined reach in the millions. Our informed, policy based analyses will deliver accurate media content about international environmental policy and local community action.
Collaboration with civil society partners
We link environmental advocacy and action through communications training. It's invaluable for non-communication or advocacy professionals to be equipped in how to operate in the media and policy space.
Collaboration with our media partners
With existing syndication arrangement with the likes of Reuters, Al Jazeera and The Huffington Post, our content is bringing environmental stories into the mainstream media.
Verb Expansion
We will be able to produce additional content from different voices that aren't currently represented. Verb Camp allows for us to give back and build our internal capacity.
---
What are the proposal's costs?
We will have a sliding scale of participation fees in both developed and developing countries. The Verb wants to ensure that no participant is unable to access this training opportunity due to financial barriers. As such, we will be working to secure partnerships with local and international NGOs, university and other educational institutions and media partners. Funding will be sourced through multiple avenues for core expenses and Verb Camp specific expenses too.
Expenses will be split into multiple stages: development of training materials that can be universally deployed (this will include a handbook for those running their own), the internal training of Verb contributors to be able to deliver Verb Camps and the implementation of running a Verb Camp. All fees used below are based on bootstrapping and Lean Startup principles and represent the minimum amount of funding needed for a minimum viable product.
The development of materials and internal training processes will require core Verb funding. We will also collaborate with external professionals in environmental advocacy, media and communications specialists and scientists to establish best practices. This will cost at least $2,000.
The deployment of every Verb Camp will have to account for the costs of a venue, recruitment of participants (including any subsequent followup so that they are integrated into The Verb's day-to-day work), materials, food and contributions for speakers where necessary. This will vary from country to country, and could range from $800-$4,000 depending on the number of participants involved each. Our previous Verb Camp in Melbourne came at a cost of $70 per participant.
With additional funding, The Verb will be able to develop a suite of materials to continue our professional development work online.
---
Time line
Verb Camps will be held across the world in the lead up to Paris 2015, the next significant milestone in the international climate change process. Without an international treaty, we will not be able to sufficiently mitigate and adapt to climate change. Run away climate change is a major risk if mitigation efforts do not rapidly increase within the next decade.
The Verb is ratcheting up our efforts over the next 18 months as this is when our work can most significantly impact and benefit the international climate change process and broader environmental movement. Our timeframe is immediate but by no means short-sighted. Without an international treaty, the way that climate change is approached will have to be fundamentally reconsidered. This is true for governments, civil society actors, business and media organisations alike.
Everything proposed here will be rolled out within the next 18 months. Beyond Verb Camp, we will continue to provide coverage of the implementation and roll out phase of the outcomes to be delivered in Paris.
The Verb will be evaluating the ongoing impact that we have created beyond the content that we produce. We will examine how our work has improved or changed the contributions that young professionals are able to make in a multidisciplinary world. This will have stemmed from the training provided at Verb Camp on environmental issues and communication skills. We will also monitor the media's changing approach to environmental coverage which is currently heavily reliant on generic stories rather than specific contextualised reporting. Our long term impact may result in more nuanced media coverage of environmental issues across the board.
---
Related proposals
Youth Action CoLab submissions that relate are:
- Climate Change is Elementary: in its focus on education-based workshop training.
- Youth Lead: in its youth-led approach to Chinese training programs.
- Hard Copy Letters to G7 Heads of State from Nepalese Youth: The Verb has previously been involved in producing messages similar to these with our partners such as our "Future We Want" campaign.
---
References
Our content can be found on our website, below is a small sample of our articles:
Brown, Jeremiah (2013) "The Plight of Gingers Ignored in Doha", The Verb
Do, Linh (2014) "Saving Tasmania's Forests", Al Jazeera English
Fischer, Jeppe (2012) "The Rise of a Celebrity Negotiator", The Verb
Hall, Tim (2012) "2012: A Year for Reflection and Redemption on the Environment", The Verb
Mazengarb, Michael (2012) "Power of We: Little Sun", The Verb
McKenzie, Lachie (2012) "Can Lawyers Save the Planet?", Huffington Post UK
Stewart, Genevieve (2012) "The Future of the Sex and Planet", Thomson Reuters Foundation
Suwan, Sara (2013) "Where do Arabs Fit In?", The Verb
*The Verb was formerly known as Speak Your Mind
Some sources for our approach:
Bivens, Rena Kim (2005) "Media Coverage, Foreign Policy, and Public Opinion: The Current Political Climate is Creating New Opportunities for Media Reform". Presented at the IIS conference "Frontiers of Sociology," Stockholm
Carter, Neil (2007) The Politics of the Environment: Ideas, Activism, Policy. Cambridge, New York: Cambridge University Press, 2nd ed.
Castells, Manuel (2008) "The New Public Sphere: Global Civil Society, Communication Networks, and Global Governance" in The ANNALS of the American Academy of Political and Social Science, 616(1), 78 –93.
Downey, John and Natalie Fenton (2003) "New Media, Counter Publicity and the Public Sphere" in New Media & Society, 5(2), 185–202.
Mamadouh, Virginie (2004) "Internet, Scale and the Global Grassroots: Geographies of the Indymedia Network of Independent Media Centres" in Tijdschrift voor Economische en Sociale Geografie, 95(5), 482–497.